We develop autonomous production units
The efforts of manufacturers to constantly increase competitiveness and the continuous shortage of manpower both have solutions in the form of automating manufacturing processes. The aim of the INTEMAC Centre's development activities is to achieve – with the help of Industry 4.0 technologies – autonomy for manufacturing processes and units. In co-operation with industrial and technology partners, we develop and build so-called autonomous production units. Using our test and demonstration workplace (testbed), we develop and test innovative technological solutions with elements of the Industry 4.0 concept.
INTEMAC Centre's autonomous production units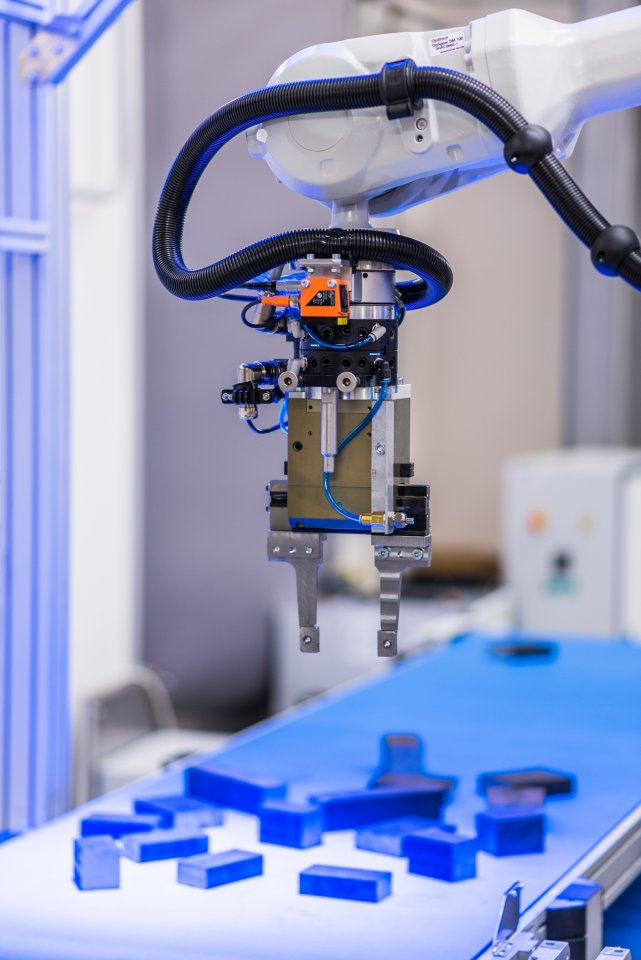 The aim of the INTEMAC Centre's development projects in production automation is for autonomous workplaces to have the ability to respond operatively to changes that may occur in production. These might be product changes, variable material quality, and other stimuli. The production units that we develop at the INTEMAC Centre are easy to maintain, work unattended, and allow new types of parts to be added to the production line. The main goal of automated production units is to enable manufacturers to quickly and flexibly adapt their production at minimal cost.
The integration platform offers easy control of the production unit
The key feature of the autonomous workplace is direct control over all its components, including the robot. Thanks to a shared integration platform, this makes it easier to implement other manufacturing machines and equipment, and to quickly reconfigure production. The user interface of the integration platform contains all necessary controls for setting up and operating production. No longer is there any need for programmers, trained operators are enough to operate the workplace.
From the test and demonstration workplace to the launch of automated production units
At the INTEMAC Centre, we develop autonomous production units with the help of our own test and demonstration workplace (testbed). In the past, we used to implement successful projects of this type, which would naturally follow on from one another. An introductory project was used to test and verify the elements and possibilities of advanced technologies. At that stage, our automated test and demonstration workplace consisted of a milling centre, an industrial robot, a measuring station and a material feeder. We built upon this experience and co-operation with technology partners in our Production Cell 4.0 for TAJMAC-ZPS, which we developed on the basis of the particular specifications and production needs of the customer. This project now represents the transformation of an autonomous flexible workplace into a real-life manufacturing company.
Advanced technologies applied in the autonomous production units of the INTEMAC Centre
Adaptive machining process
Cloud monitoring of efficiency
Augmented reality for a quick overview of the workplace condition
Predictive diagnostics of key components of the machining centre
Developing your own reliable way to insert parts into a fixture (with variable product dimensions – it is a demanding task)
Material feeder equipped with machine vision, which checks the dimensions of semi-finished products and guides the robot to the appropriate coordinates
Plug your technology into developing autonomous production units
Visitors to the INTEMAC Centre can experience for themselves the benefits that an automated production workplace offers. With technology partners and the help of developed solutions, we are able to design autonomous workplaces customised to fit individual manufacturers.
For technology companies, the shared development environment of the testbed represents an attractive opportunity for testing and the further development of their own production technologies.
We are preparing a new testbed – get involved too! Become a partner of the INTEMAC Centre. Benefits of the INTEMAC Centre's autonomous workplace
Benefits of autonomous production unit
Easy to set up and operate
Resetting production in automated workplaces is a difficult problem for most manufacturing companies. Our integrated user interface allows changes in production settings to be carried out by normal operators.
Increasing production productivity
Most activities that machine operators must perform can be automated. This delivers higher productivity while maintaining the current number of employees.
Consistent production quality
Integrated measurement and monitoring of production ensures consistent production quality.
Knowledge of what is happening in production
All production data is stored and displayed in a clearly-arranged way. This makes it possible to search for and remove bottlenecks in the production process, and so effectively optimise the entire production.
Please fill out the form below. We'll get back to you as soon as possible.