We digitalise manufacturing companies
Digitalisation of production is a broad term associated primarily with the concept of Industry 4.0 and the ongoing 4th Industrial Revolution. Digitalisation mainly involves applying the industrial Internet of Things and automating production in so-called "smart factories". Cyber-physical systems in these companies undertake repetitive and simple activities. And this is another reason why manufacturing companies should consider digitalising their production. It is a way to get an edge over the competition, and it provides assurance that manufacturers will be able to satisfy increasingly demanding customer requirements.
Industry 4.0 and the digitalisation of engineering and manufacturing companies at the INTEMAC Centre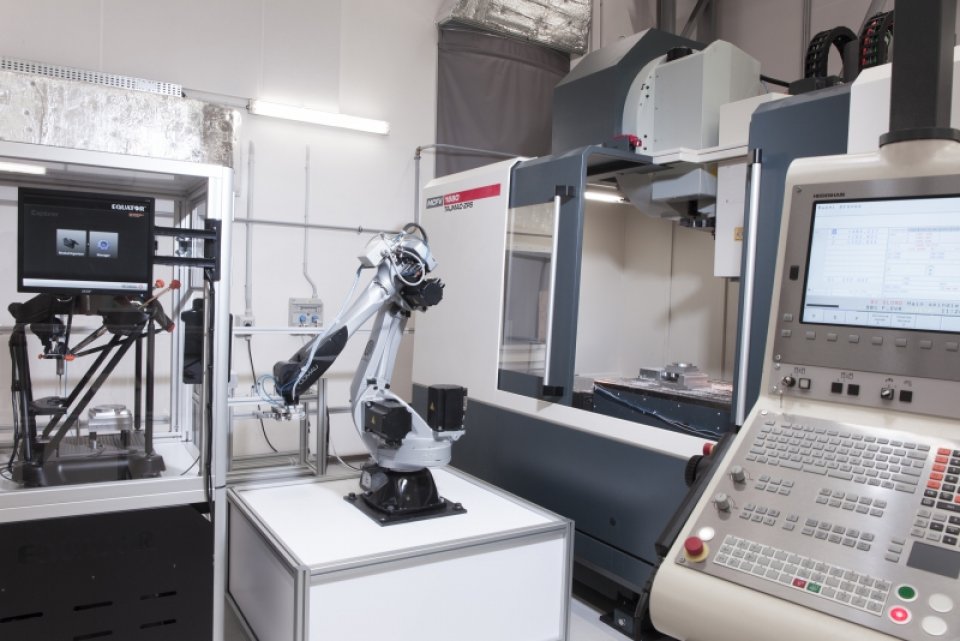 Digitalisation of production is the process in which manufacturing companies gradually put to use the latest advanced technologies from various industries. It involves the comprehensive deployment of a wide range of innovative solutions, often associated with the industrial Internet of Things, innovative ERP systems, machine learning, advanced production planning, and working with data and other information technologies. It is the diversity of scope of the available technologies that makes it difficult to navigate their possibilities and benefits. Manufacturing companies often do not know where or how to start digitalising their production, even though they understand its benefits in terms of reduced costs or increased productivity.
The DIGIMAT consulting programme will help you navigate the available options and digital technologies. The goal of the programme is not to deliver solutions themselves, but to provide an overview and extensive know-how associated with the implementation of digital technologies – and not only in engineering production. We will connect you with a wide network of technology companies and expert practitioners who specialise in implementing elements of the Industry 4.0 concept in manufacturing companies.
We will guide you through the process of digitalising production. From the automatic conversion of paper orders into digital form, to the fitting of manufacturing machines with sensors, robots or measuring stations, through to connecting to remotely located information systems as part of the automation of manufacturing processes.
Data and working with data are essential for the digitalisation of any manufacturer. Various ERP, MES and other information systems, which are often interconnected, are used to acquire, structure and display data. For the effective management of manufacturing information systems, it is a good idea to consider merging them. In the DIGIMAT programme, we will present you with individual available solutions that will give your company's management the relevant information for making good decisions.
Advantages and benefits of production digitalisation
You will get an immediate overview and control over your production
Elements of Industry 4.0 allow you to check the status of organisational and manufacturing processes online, and monitor production efficiency. You will get a detailed overview of the status of all processes and the possibility of their systematic operational management.
You will find out what is important
Retrospective overviews and data analyses allow you to direct your managerial efforts towards addressing significant production issues and not waste energy on secondary issues whose solution cannot bring about the desired positive effect.
You will understand the production chain
The combination of data analytics and artificial intelligence will bring you the ideal platform on which to search for and discover production synergies.
You will reduce your overheads and increase the quality of production
Through monitoring, for example, of dispensers of manufacturing materials or machine downtimes, your costs will decrease. The possibilities provided by 100% control and prediction will ensure that your products enjoy higher quality.
Our partners in digitalising production and implementing elements of the Industry 4.0 concept
The DIGIMAT consulting programme and its success in digitalising manufacturing companies is based primarily on the expertise of independent specialists. These are experts with extensive practical experience in the digitalisation of production and come with an unbiased perspective. Thanks to their expertise, we can identify those areas of production in which lies the greatest potential for your company's future growth.
Please fill out the form below. We'll get back to you as soon as possible.